Dr. Manmohan Singh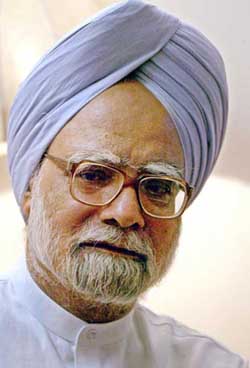 Name
Dr. Manmohan Singh
Lovingly called
Mohna
Also called
"Architect of India's economic reform."
Profession
Economist, now Prime Minister of India
Date of birth
September 26, 1932
Place of birth
Village of Gah (west Punjab), in Chakwal district, some 80 kilometres south of the capital Islamabad.
Religion
Sikhism
Family
Father:Gurmakh Singh Kohli was a dry fruit trader
Mother:Krishna Kaur
Wife:Gursharan Kaur
Daughters:Upinder Kaur and two more daughters
College
Amritsar's Hindu College
Punjab University in India first and then in Oxford and Cambridge in UK.
Degrees earned
M.A., D.Phil. (Oxford), D.Litt.(Honoris Causa); I.N.C.(Assam)
Doctoral Thesis was on
The critical role of exports and free trade in India's economy.
Married on
14 September 1958
Strange coincidence
He was born in the village of Gah near Pakistan's capital Islamabad whereas Pakistan President Musharaff was born in Daryaganj's Kucha Saadullah Khan near Old Delhi.
Admires
Margaret Thatcher
Places visited
Traveled extensively in Europe including Eastern Europe, North America, Latin America, Africa and Asia.
Favourite hobby
Reading and writing.
Interested in
Social and economic change and international relations.
Life Member
India International Centre and Indian Economic Association.
Lacks
Strong political base
Achievements as a Finance Minister
Devalued the rupee to spur exports, loosened foreign investment rules, opened oil refining, telecommunications and the stock exchanges,rebuilt India's foreign reserves
Facts
Was member of Rajya Sabha (Upper House of parliament) from north eastern Indian state of Assam.
Has never won a seat in India's lower house of Parliament, called the Lok Sabha, or House of the People.
In all the [five] years that he was finance minister of India, he never drew any salary.
First minority,a Sikh and a non-hindu to become the Prime minister.
Is one among the 10 children of his parents.
The family moved to Amritsar, from the village of Gah when he was 14.
First time he ever wore a tie was for his first job interview.
Was in charge of preparing the economic manifesto for the Congress party during 2004 election campaign.
Is the 14th Prime Minister of India.
Authored
"India's Export Trends and Prospects for Self-Sustained Growth" Clarendon Press, Oxford University, 1964; also published a large number of articles in various economic journals
Address
9, Safdar Jung Lane, New Delhi.
Email address
manmohan@sansad.nic.in
Opinions about him

Sonia Gandhi: I think the country will be safe under Manmohan Singh.

Hilary Clinton: India will attain greater heights of economic prosperity and growth under the "able guidance".

Prof M.R. Aggarwal: People like to associate their names with top schools, but there are a few people that top schools like to associate their names with, and Manmohan Singh is one of them.

His Wife: I have full confidence, that he will do his best to solve all the problems.

His Sister-in-law Dhananter Kaur: He is a silent, taciturn and shy person.

His grandson Raghav: Personally, I would have liked him to be the Finance Minister but then all this excitement happened and Sonia Gandhi said she would not be PM.

His friend Amarjit Singh: He is a family friend, a very humble man, very uncomplicated and matured person. We are happy that he is going to be the country's next prime minister.

Posts held

1972 to 1974 Deputy for India in IMF Committee of Twenty on International Monetary Reform
1972 to 1976 Chief Economic Advisor, Ministry of Finance, India
1982 to 1985 Governor, Reserve Bank of India
1985 President, Indian Economic Association
1985 to 1987 Deputy Chairman of the Planning Commission
1991 to 1996 Union Finance Minister in the Narasimha Rao government
1991 Elected to the Rajya Sabha
1995 Re-elected to the Rajya Sabha
Leader of Opposition, Rajya Sabha;

Academic Posts:

1957-59 Senior Lecturer in Economics, Punjab University, Chandigarh
1959-63 Reader in Economics, Punjab University, Chandigarh
1963-65 Professor in Economics, Punjab University, Chandigarh
1969-71 Professor of International Trade, Delhi School of Economics, University of Delhi
1976 Honorary Professor at Jawaharlal Nehru University, New Delhi
1982 Honorary Fellow, St John's College, Cambridge UK
1982 Honorary Fellow, Indian Institute of Bankers
1986 National Fellow, National Institute of Education, NCERT
1993 Honorary Fellow, All India Management Association
1994 Honorary Fellow, Nuffield College, University of Oxford, Oxford

1996 Honorary Professor at Delhi School of Economics, University of Delhi

Awards

D.Litt from

Punjab University, Chandigarh,
Guru Nanak University, Amritsar,
Delhi University, Delhi,
Sri Venkateshwara University, Tirupathi,
Panjabi University, Patiala,
University of Mysore, Mysore,
University of Bolonga, Italy,
Kurukshetra University, Kurukshetra,
Osmania University, Hyderabad,
Nagarjuna University, Nagarjunanagar
Dr. Bhimrao Ambedkar University, Agra;
Doctor of Laws from University of Alberta, Edmonton, Canada,
Doctor of Social Sciences from University of Roorkee, Roorkee and
D.Sc from Chaudhary Charan Singh Haryana Agricultural University, Hissar and
Thapar Institute of Engineering and Technology, Patiala;
University Medal for standing first in B.A(Hons), Economics, Panjab University, Chandigarh, 1952,
Uttar Chand Kapur Medal, Panjab University, Chandigarh, for standing first in M.A.(Economics) 1954,
Wright's Prize for distinguished performance at St. John's College, Cambridge, 1956 and 1957
Adam Smith Prize, University of Cambridge, U.K., 1956,
Padma Vibhushan, 1987,
Euromoney Award, Finance Minister of the year, 1993
Asiamoney Award, Finance Minister of the year for Asia, 1993 and 1994,
Jawaharlal Nehru Birth Centenary Award of the Indian Science Congress Association, 1994-95,
Justice K.S. Hegde Foundation Award, 1996
He won the 'Honest Man of the Year' award in 1996 for his clean image.
Nikkei Asia Prize for Regional Growth by the Nihon Keizai Shimbun, Inc. (NIKKEI), publisher of Japan's leading business daily,1997
Lokmanya Tilak Award by the Tilak Smarak Trust, Pune, 1997.
Compiled by: Poongodi Sivagurunathan
Courtesy: Net Resources