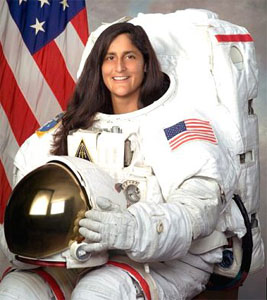 Name
Sunita Williams

Birth Name

Sunita Pandya Krishna
Nickname
Suni
Famous as
NASA Astronaut
Date of Birth
19th September 1965
Place of Birth
Euclid, Ohio, United States
Nationality
American
Family
Father – Deepak Pandya (Neuroanatomist)
Mother – Bonnie Pandya
Sister - Dina Pandya
Spouse – Michael J. Williams (Federal Police Officer)
Education
School : Needham High School in Needham, Massachusetts.

College :
* Bachelor of Science (Physical Science), United States Naval Academy.
* Master of Science (Engineering Management), Florida Institute of Technology.
Profession
Astronaut, United States Navy officer, Test Pilot
Rank
Captain, USN
Career highlights
* She was selected and received her Astronaut Candidate Training in 1998.
* After training she worked in Moscow with the Russian Space Agency on the Russian contribution to the International Space Station (ISS) and with the Expedition-1 crew to the ISS.
* After the return of Expedition-1, she worked within the Robotics branch on the ISS Robotic Arm and Special Purpose Dexterous Manipulator.
* As a NEEMO2 crew member she lived underwater in the Aquarius habitat for 9 days.
* As NASA's official public spokesperson, she was selected to appear on the Colbert Report to announce the name for Node 3 of the ISS.
* She was assigned to the ISS as a member of Expedition-14 and then joined Expedition-15.
* She started her first mission to space station on December 9, 2006 and returned on June 2007.
* On April 16, 2007, she ran the first marathon as an astronaut in orbit.
* She began serving as a flight engineer on Expedition-32 from 1st July 2012.
* She has participated in six spacewalks. (Till 2012)
Achievements
* She broke the two spacewalk records for women space travelers (set by another female astronaut Peggy Whitson) - most number of spacewalks and most spacewalk time during her sixth spacewalk, on September 5, 2012.
* Also she holds record for longest space flight among female space travelers.
* She is the first woman astronaut to run marathon in orbit.
* She is the second woman of Indian origin on Space Mission after Kalpana Chawala.
* She is the second astronaut of Slovenian heritage after Ronald M. Sega.
Honors
* Navy commendation Medal (twice).
* Navy and Marine Corps Achievement Medal.
* Humanitarian Service Medal.
* Medal for 'Merit in Space Exploration'.
* Padma Bhushan.
* Sardar Vallabhbhai Patel Vishwa Pratibha Award.
Member of
* Society of Experimental Test Pilots.
* Society of Flight Test Engineers.
* American Helicopter Association.
Fan of
Boston Red Sox
Recreational interests
Running, Swimming, Biking, Triathlons, Windsurfing, Snowboarding, Bow hunting
Facts
* She is an American of Indian and Slovenian descent.
* Her paternal ancestry originates in Gujarat in India.
* During her childhood days she contemplated to become a veterinarian.
* When she came to India, she visited Sabarmati Ashram and her ancestral village Jhulasan in Gujarat (2007).
* She is the first person of Indian origin who is not an Indian citizen to receive Sardar Vallabhbhai Patel Vishwa Pratibha Award, World Gujarati Society.
* She has expressed a desire to adopt a girl from Ahmedabad.
* She has a pet named Gorby.
* She appeared along with her pet on 'Dog Whisperer', National Geographic Channel (2010).
Courtesy: Web Resources
Compiled by: Yashashvini

Other Sites about Sunita Williams
- Sunita Williams - Wikipedia, the free encyclopedia
- Sunita Williams: Latest News, Videos, Photos | Times of India
- Space walk successful; Sunita Williams installs bolt, breaks record ...
- Sunita Williams completes her 6th spacewalk, breaks record - World ...
- Sunita Williams: Latest News, Photos, Videos on Sunita Williams ...
- On her sixth spacewalk, Sunita Williams successfully installs bolt ...
- Sunita Williams (Conversion to Islam) - WikiIslam
- Sunita Williams' 5th spacewalk - Video | The Times of India
- sunita williams talks from space - YouTube
- On her 6th spacewalk, Sunita Williams successfully installs bolt - DNA