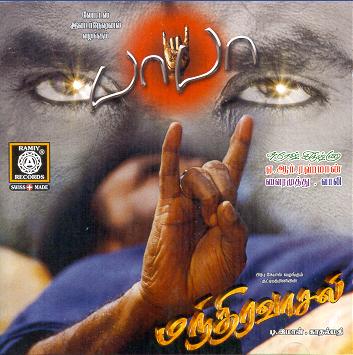 Music : A R Rehman
Cover design: By Soundarya Rajnikanth. It's simple and Superb. (Though there are some errors)
Audio quality: Good
Audio company: Star Music
Price: cassettes Rs. 50 / CDs Rs. 175
Atlast universally much awaited and much hyped songs of BABA were released on 31st July. Let's have a close look at the songs of this album
1.Baba Theme (Ekamevadhvitiyam):

Usually Rajini's film songs begin with an introductory song by S.P.B. and this used to be the most expected song by his die hard fans. But here the album starts with a peaceful theme music blended with Srinivas'sanskrit chanting. This depicts the superstar's obsession towards spirtuality. The theme, Rajini wants to deliver through this song is that "there can be only one paramatma" .
2. Dippu Dippu:

This fast number promises to be the introductory song for Rajini in this film. But it's doubtful whether the metallic voice of Shankar Mahadevan will suit for Rajini. This number is really peppy and in bangra style. But it strongly reminds us of some old songs of Vidyasagar inspired heavily by punjabi folk by Gurdasman. The song is written by Vairamuthu. In Baasha, the human life was differentiated into 8 parts and here into 3 parts namely childhood, youth and aged. A poet like Vairamuthu could avoid meaningless leads like 'Dippu Dippu Kumari'. Shankar Mahadevan pronounces Baba as Bebe!!! If his intention was to sound stylish,let the fans of superstar forgive him for that.
3. Baba kichu kichu

As usual, Rehman has introduced a new voice to TFM , of Reena Bharadwaj .S.P.B. is the co-singer whose magical voice suits Rajini a lot. A special feature of this song is that, superstar has rendered his golden voice in the beginning.
The new singer seems to have a voice with a cocktail of honey and wine. Though it's a duet song, it's heavily flavoured with Rajini's concepts and present political scenario. It is penned by vairamuthu and it is a commendable job. This song easily sticks to the lips of the listener and will be a sure hit.
4. Maya Maya

Karthik and Sujatha have lent their voices for this masterpiece of the album. The song is in the usual style of Rahman with enchanting tune and haunting beats. It's sure that the fans are going to be crazy when this song is played in the movie .The songs will reverberate in the Top Ten shows in Satellite channels and in the minds of people.
It seems Vaali wote the lyrics in 10 minutes time after listening to the tune of Rahman over phone (from London). Sujatha's voice is as usual as cool as cucumber and the song diverts into various raagas and pitches with different beats.
5. Raajiyamaa
Those hearing this song for the first time will mistake the voice to be KJY but it's by Jeyachandran. No one will believe that this is Rahman's tune because it's totally different and it sounds like Raja's song.
The whole story of the film and Rajini's present mystical status is well projected in this song by vaali. The song flows like "adhisayam adhisayam Periyaar thaan aanadhenna Rajaji" , which created ripples among the DK people who even filed a case stating that Periyaar is derated by this line. But later as Rajini had promised to change the line, the case was withdrawn. This created more publicity to the already much awaited film.
6. Sakthi kodu
The upcoming playback singer Karthik's second song in this album. Rehman should have had enough confidence in him that he's given such an emotional song to him and Karthik has used the opportunity to display his talent. This song flows well with karnatic base and in this song Rajini asks for POWER from God in order to demolish the evils and do service to mankind. This song reminds us of the"Kaalaiyum neeye maalaiyum neeye".
Overall review:
There seems to be a conflict in the number of songs in the album. Some cassettes seem to have the song 'Deivam Intru' sung by Krishnaraj that resembles the song 'singam ontru purappattathey'. Most of them don't.
Generally the album lacks consistency. A lack of involvement is sensed at all the levels starting from the playback singers to the director of the movie. Perhaps, ARR's commitment with "Bombay Dreams" spoilt it all.
Usually Rehman's songs take time to catch people's mind but stay there for long. Hope this will follow the same trend.
Already this album is in the top of the charts and surely Rajini's magnetism will secure this place for long.
"KNOWN IS A DROP.... UNKNOWN IS AN OCEAN........ "
How about Baba Album? Well guys, perceptions differ.