Bose - Music Review
-Vignesh Ram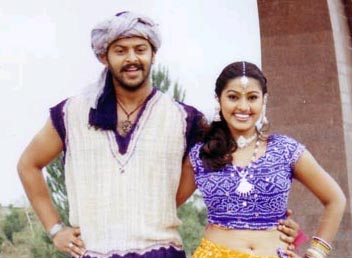 | | |
| --- | --- |
| Music | Yuvan Shankar Raja |
| Lyrics | Na.Muthukumar, Pa.Vijay, Thamarai |
| Direction | Senthil Kumar |
| Audio | Five star |
Yuvan's "7/G Rainbow colony" album received raving reviews for his wonderful compositions . His next album "Manmadhan" though was not in the league of 7/G, had some innovative,bold experiments by him. BOSE is his recent audio release and let's see whether it's a hatrick from him.................

Nijamaa (7/10) - A haunting melody number soul stirringly rendered by KK and Shreya Goshal. Though the tune is catchy, it is so predictable that even on first hearing, one can predict the flow of tune. Na.Muthukumar's lyrics have some repetitive lines used in previous movies. Electronically modified humming in the first interlude is a good innovative effort and this song is the pick of the album.

Vaitha kan(7/10) - Bharadwaj lifted a particular beat from an Indipop and used in JayJay's "Maymaasam" song, which is again recycled here by Yuvan. Other than that, the tune is very attractive and addictive. MadhuBalakrishnan and Sri Vardhini have lent their voices in charanam sections while chorus in pallavi. Pa. Vijay has come out with commendable lyrics.

Dolly dolly (5/10) - As usual , a heroine introduction song. It begins with a decent opening bit but fades off as a run of the mill song. Thamarai's lyrics have some feministic and confidence building lines. Pop Shalini's voice doesn't suit the energy and feel,this song is supposed to have.

Enna aachu (6.5/10) - Yuvan has experimented in this song and has succeeded to an extent. Sorepoint in this song is the lyrics by Pa.Vijay, which is more like a conversation than like a poetic lyric. Set in a catchy, toe tapping rhythm,and in Mathangi and Devan's enthu voice, this will hit the charts if picturised creatively.

Bommalaattam (6/10) - Karthik and Chitra Sivaraman have done a decent job in elevating the mood of the song. The tune and the beats, though reminds us of old Ilaiyaraja's dappaanguthu songs, is peppy and gets into the listener soon. The rhythm and pace of the song is sure to make the front benchers shake their legs.

Yuvan is again repeating the same mistake he did in the year 2002-2003, signing too many films and not maintaining the quality of songs. Instead he should do only selective movies and concentrate into each and every aspect of the song and we often find the choice of singers not apt in his music. It's not at all fair to come out with great songs only for Selvaragavan's movies and average songs for others' movies. BOSE is an ordinary album with not-much-to-tell kind of songs for a commercial movie.