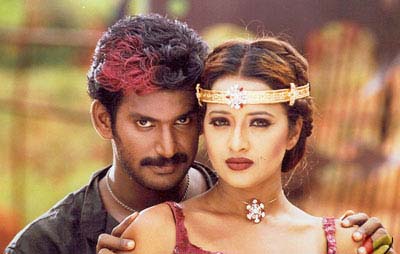 | | |
| --- | --- |
| Music | Harris Jeyaraj |
| Lyrics | Vairamuthu |
| Direction | Gandhi Krishna |
If you have got good memory , you would not have forgotten "Engineer" a mega project with Aravindsamy and Maadhuri dixit in the lead with A.R. Rehman's music. Unfortunately the film was shelved due to various reasons and after such a long phase of eclipse, its director Gandhi Krishna is all set to strike again with his new venture "chellame". This time he has not believed in star value and is boldly introducing Vishal as hero with Reema sen as pair. He has switched to Harris jeyaraj, the alternative for Rehman these days. The album has come out well with Harris's style of peppy songs.

Vellaikaara mutham (6/10)-Mahathi – Don't jump into any conclusions after hearing this song for the first time. You can see for yourself the song growing in you after 3 or 4 hearings. Mahathi has done justice to the song by her sweet ice cream voice. Having catchy, easy flowing tune and rhythm, this song is captivating. Usually Harris takes effort in coming out with quality music be it a a small opening bit or interludes and his efforts here are laudable too. The flute piece in the first interlude is noteworthy mentioning. But the humming in the second interlude is exactly a recycle of songs from "Lesa lesa" and "kaakha kaakha". Vairamuthu's lyrics are so youthful and add to the feel.
Aariya udhadugal (7/10)- Hariharan and Swarnalatha – Gosh! Vairamuthu's getting old but not his lyrics. The lyrics are youthful, romantic, meaningful and crossing the limits at places. Hariharan and Swarna are the apt choice of singers for such a song though Swarnalatha's voice sounds nasalised at places. The interludes are very rich and creatively composed.
Kummiyadi (5/10)- Sandhya – This is the first time Harris has tried his hand in folkish kummi song. Here the girls sing this song on the day of heroine's wedding praising her beauty and teasing her while getting her ready for a new life. Here too the lyrics have cryptic meanings at places.
Chella kiliyo (5/10)- Ranjith and Anuradha Sriram – Set in fast paced tune and good toe tapping rhythm, this will surely win the heart of youth. But if the songs reminds you of any old Rehman's songs, just forget and enjoy this song.
Kaadhalikkum (7/10)- Kay kay, Mahathi, Timmy, Chinmayi – The song with Harris Jeyaraj's signature all over is the pick of the album. It will bowl you over on initial hearing itself by its peppy tune, good lyrics and rhythm and haunting "kaadhali kaadhali" "sonaali" chantings. Though "Lesa lesa" tune peeks in at charanam parts, the song is thoroughly enjoyable.


Overall it's a worth buy album from Harris jeyaraj in his Agmark style. But except for that kummi song, there are not much variety for situations of the songs. All are stereotypic romantic, love songs. Though Vairamuthu has done a commendable job, at places, the lyrics make the listener wonder whether Dr. Maathrubootham has written the lyrics. Having come from Shankar's team and with K.V. Anand as cinematographer by his side, Director Gandhi Krishna has picturised the songs very creatively. The songs are sure to hit the charts once the film hits the screen.