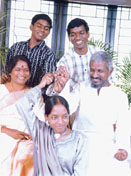 Maestro Ilayaraja is a living legend who needs no introduction at all. Once, in an interview, when asked to mention his masterpiece, timingly he answered that he considers Karthik Raja, Bhavatharini and Yuvan Shankar Raja as his masterpieces. Though not able to reach his heights, his masterpieces, having music in their blood, have got a special place in tamil film music and in hearts of fans.
Only after the birth of Karthik Raja(KR), Ilayaraja got the chance to compose music for "Annakili". So, he has a soft corner for him. At his young age, he composed one song in "Pandian" and it became the pick of the album. Karthik Raja was sentimentally introduced by Panchu Arunachalam in his film "Alexander" (Remember Ilayaraja's first film starts with 'A') But "Enakkoru magan pirapaan" hit the screens first. It had average songs which were not impressive. Then came Manickam which also failed miserably.

Karthik Raja proved himself in "Ullasam" in which the songs were set in modern trend. But the film bombed at box office.
Karthik Raja was so unlucky that all his films including kamal's "Kaadhalaa Kaadhalaa", "Naam Iruvar Namakku Iruvar", "Ullam Kollai poguthe" were failures. His Venture in Hindi, "Grahan" was also a flop. He commented on A.R.Rahman that he is a good sound engineer and not a good composer. This statement was vehemently criticized and opposed by music fans. Very much like his father, he's strong in melodies, but when it comes to folk or western, he's incompetent. Due to lack of consistency, versatility, there was a lean period in his career. Then he was signed for Maniratnam's "Dumm Dumm Dumm" and he promptly made use of the golden opportunity. The songs were super hit. Currently, he has 3 to 4 films in hand he has to go a long way to prove his caliber.

Ilayaraja's next masterpiece, Bhavatharini made her debut as a singer in "Raasaiya". Though criticised a lot by her Dad, the song became a super hit. From then onwards, she sings at least one song in every album composed by her dad and brothers. She had also lent her voice in songs composed by Deva & Sirpy. She has learnt classical music and has a sweet voice, but being so innocent and child like, her voice doesn't suit for many heroines. Her voice suits well for child artistes and the song "Mayil pola" from the film "Bharathi" bagged her the national award for the year 2000. She even composed music for the film "Mitr my friend" directed by Revathi. The songs didn't reach the people as they were in English.

Last but not the least, Yuvan Shankar Raja(YSR) proved to be a musical prodigy when he hummed a tune for the film "Anand" when he was getting ready for school at the age of 7years. He made his debut as Music Director in "Aravindan". The album had beautiful variety numbers, but Vikatan had compared his debut to a child entering a theme park and had criticized him as over enthusiastic. His next projects like "Kalyana galatta", "Velai" didn't leave any mark. He proved that he's a chip off the old block in "Poovellam Kettu Paar". The songs sounded so fresh and different and appealed to young people and children.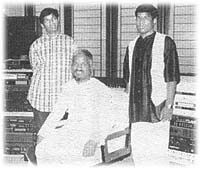 His films like "Rishi", "Unakkaaga Ellaam Unakkaaga" attracted many directors' attention towards him. He took a colossal leap in "Dheena" which was a super hit film with beautiful songs and sparking BGM score. He proved his versatility in "Nandhaa" and "Thulluvatho Ilamai". Yuvan Shankar Raja differs from Karthik Raja in his open mindedness, as he says that he likes A.R.Rahman's music and is eager to work with Vairamuthu. His songs have the essence of Ilayaraja's music and garnished with A.R.Rahman's style of music. He should come out of Spanish style tunes, noisy percussion masking the lyrics and importantly should also avoid A.R.Rahman's influence in his songs. Yuvan Shankar Raja has signed nearly 20 films and promises to be a successful music director in the future.
Let's see how the masterpieces of Ilayaraja fair in the future.