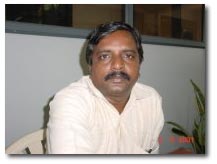 When a class of social scientists is trying to come up with complex explanations for why rural India is burning, an exceptional village panchayat leader Elango's simple explanation is this: "All because we have forgotten Gandhiji." Elango's story is unique because he goes beyond words to demonstrating what Gandhiji would have liked done if he were to be alive today.
Rangaswamy Elango hails from a dalit farmer family from Kuthambakkam village (40 km from Chennai in Thiruvallur district), Tamil Nadu. Born and brought up in the village, Elango grew up to become a chemical engineer and was a scientist at the Council for Scientific Industrial Research (CSIR) for eight years. Every time Elango visited his village, which was fraught with poverty, natural resource degradation, caste riots, illicit distilling (which employed 35% of the population) and associated evils, his desire to do something burnt brighter. Finally, in 1994, Elango left his job in 1994 and began working with his fellow villagers to improve their living conditions. He independently contested and won the 1996 panchayat election and has been reelected in the 2001 elections with zero campaign cost.
Over his first term of five years, Elango visited and studied several experiments in rural development across India and made inroads into the government's planning committees on Panchayati Raj. He has eradicated alcoholism, employing all the rehabilitated families in constructing low-cost, eco-friendly houses and health centres, laying roads and drains, installing street lights and creating water harvesting structures. Most importantly, Elango has inspired the traditionally antagonistic dalit and non-dalit communities to live together peacefully in twin houses. "Sounds too good to be true!" Most of those who have heard the story of Kuthambakkam have had to visit the village and meet Elango to believe it! The minister for rural development was one of them.
After being elected in the second round of panchayat elections in October 2001 at no cost, Elango is now undertaking the next and the most challenging task of establishing a land/agriculture-based village economy. Elango says "Every village has its own economy. Today, the money outflow is greater than the inflow, because villagers buy most of their household commodities from outside. This is why they remain poor in spite of the hundreds of government schemes and all the good effort by NGOs. All we need to do is to help them produce as much of the basic necessities (like food and clothing) as possible within the village." Before you even begin to wonder if this is really possible, he is already well into implementing his plan. A toor dal processing unit, a dairy industry, a groundnut processing industry, a jute industry, a leather industry, a handloom industry, a bakery and a soap-making industry are all a reality today. More are on the anvil!
The rural industries will, to the extent possible, be land- (agro-) based; use locally available raw-materials and indigenous knowledge; cater to the local market; meet the basic needs of villagers - food, clothing and shelter - to attain self-sufficiency; be diverse; work on a cooperative model through men and women SHGs. be heavily dependent on human power; be environment-friendly.
Plans to revive village economies are always met with skepticism with one of the most immediate responses being "How can our products compete with those of big corporations?" Elango challenges the foundation of modern economics which says "A healthy economy is all about competition, and being more strategic and faster than the rest", and to relearn that it is more about cooperation and pride. Today, the villagers are willing to buy what is produced by their own village industries. Elango once obtained a sample of a soy-based sambar powder from CFTRI (Central Food Technology and Research Institute), which was highly nutritional and easy to prepare and use. He went to every street and demonstrated the preparation of sambar with the mix involving the villagers and served almost the entire village folk what was accepted as a tastier sambar. The villagers are now willing to buy the soy-based sambar powder, if produced in their own village with the most unappealing packaging!
If you thought this was anyway a small experiment being carried out in one of many thousands of villages in Tamil Nadu, think again! Elango has traveled extensively across Tamil Nadu and identified around 400 committed panchayat leaders. Over the past few years, he has built this network and has constantly been consulting them on their powers and duties as panchayat leaders, and more importantly, in Elango's words "reminding them of Gandhi." The establishment of a 'Panchayat Academy' in Kuthambakkam is also underway, where these leaders would gain exposure to village reconstruction and a working model of a village economy.
Elango has recently been awarded 'Ashoka Fellowship', and was invited by the UK government to study and share his experiences on local-self governance.
Elango has now been invited by the American government to study local governance in the USA between August 11 and September 29, 2002. He will be visiting the following cities to meet with Indians interested in learning more about his work: Washington DC, Dallas TX, Chicago IL, Seattle WA, Portland OR, Minneapolis MN, Ames IO, Flint MI, Boston MA, New Haven CT, Princeton NJ, Columbus OH, Milwaukee WI, Newark DE and San Francisco CA.