The tears rolling down his cheeks are proof that his heart bleeds in pain at the pathetic sight of children toiling in unfriendly work places.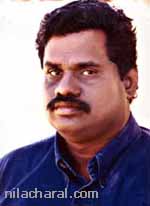 J. Paul Baskar [45] - a reputed human rights environment activist of international stature. Protecting the rights of children is what he has been doing for almost twenty years day in, day out. An avid and voracious reader himself, he has authored many books on his pet subjects - Child Labour, Environment Pollution, and Preservation of Ground Water…

He founded 'Peace Trust', a non-Governmental organization in 1984 with the principal objective of uplifting poor, downtrodden and under privileged children and women. The total eradication of child labour system is the one concern so dear to his heart although he has been concentrating on innumerable issues including the welfare of migrant Tamil labourers, an issue he has taken up in the recent past.

"Parents are the main culprits in the making and growing of child labourers - leaving their own children on the brink of disaster. Education is the only safety factor for child labourers", says Baskar in a resolute voice. In this case, they occasionally face some bizarre situations like tackling resisting parents. They even provide a monthly amount of Rs.450/- to the families of such children so that they do not feel any loss in income.

The popular saying 'Practice what one preaches' may look impossible for an ordinary person but for this iron-hearted man, that is the way of life. Yes! Paul Baskar and his 'Peace Trust' conducted many rescue operations and accomplished releasing some [hold your breath!] 6000-child labourers, employed in the tanneries and textile mills situated in and around Dindigul.

"That is not an end but a beginning," he declares.

Rescue sans Rehabilitation will never be a full fledged task and therefore 'Peace Trust' runs Peace Industrial School and Vocational Training and Production Center. Various short-term courses are being conducted for the real benefit of these rescued children in order to generate employment opportunities. They also instill in them enough confidence to stand on their own legs.

His school and college days were significant because of his enthusiastic participation in various issues. His self-effacing nature got him a place in the fact finding committee set up to probe the origin of caste clashes in some villages in the state in the eighties.

Baskar put in rigorous effort to understand the plight of Dalits and the oppressed community. He travelled extensively and met various people. Staying with the slum dwellers for a while helped him understand their problems for himself. It was a pathetic situation. He understood the adverse nature of their circumstance and determined to do something to raise their standard in the society.

Well, how it all started…
His visit to Sivakasi happened to be the beginning of a life long involvement with the cause of protecting child rights. He came to know of a fatal bus accident at Sivakasi that killed many child workers of match factories. He rushed to the spot, stayed for over three months to gather first hand information about child labourers in the match industries. The picture was really alarming and he witnessed the stark reality of how children were made to tramp wearily to their workplaces at the crack of dawn and returned well after dark. His meetings with children brought to light their dormant longing for school and a normal life. All these incidents led him to a firm resolve in his fight against child labour and for the abolition of such illegal practices.

Realizing that one hand clapping does not make any noise, he has come out with a novel way of founding 'Peace Trust' to combat these social evils in a more organized way. Taking cue from Netaji's and Gandhian thoughts, he launched campaigns in an 'Aggressive -Ahimsa' way [i.e.] " Stronger Views - Softer Implementation". This way of dealing with mill owners of that ilk fetched him rich dividends in terms of more child workers rescued from the hazardous working environment.

'Peace Trust' coordinated the Tamil Nadu stretch of Bharath Yatra held from Kanyakumari to New Delhi to create awareness on eradication of child labour. It was very successful and received good appreciation from the public. He undertook a study of bonded labour in Tamil Nadu.

'Every Mission was a Lesson' to him. He learnt a thing or two in whatever he studied. His efforts in creating awareness on 'Child Labour' made a major impact on all the South Asian Countries. Meanwhile, 'Peace Trust' has extended its wings to become a globally acclaimed organization and Baskar's selfless yeoman service has fetched him highest honours from around the globe. His tireless efforts helped in releasing many migrant labourers of Malaysia and Maldives.

His wife Mercy Baskar plays a key role in all his endeavours. She edits a magazine herself and ardently coordinates all the trust related work.

In one of his books, 'Water, Food and Environment' he presented his extensive study on pollution of lakes and ponds, pollution due to dyeing and bleaching, the types and sources of effluents and the effects of pollution on environment. 'Peace Trust' has been assiduously spreading the message of ground water recharge through rainwater harvesting in Tamil Nadu much before the Government took initiative in this regard.

Baskar is the editor of 'Development', a monthly journal, 'Voice of Migrant Labour', an e-mail newsletter, 'From the South', a labour update, 'Kadal kadantha Thozhilali', a printed and e-mail newsletter for migrants and a founder editor of 'Sutruchoozhal Puthia kalvi', a fortnightly.For a person of this calibre, no wonder that awards and titles come pouring in on his way every now and then. 'Best Writer Award' from the Government of Tamil Nadu., the 'Human Rights Award' by the UK's Body Shop, the 'Friends of United Nations Award'.
To top it all, as if adding one more kohinoor to his already bejeweled crown, the Swedish Government honoured the Baskar couple with the World Children Prize/Global Friends Award for 2004 for their untiring service to protecting the children rights. The significance in this award is that thirteen lakh children across the globe cast their votes choosing Mrs. and Mr. Baskar for this very unique award. The jury consists of top Statesmen of various nationalities including Sri. Nelson Mandela.

Besides this, Baskar has taken part in various international conferences including the Round Table of the United Nations Social Conference held in Geneva, the Urban-21 held in Berlin and the World Conference on Sexual Exploitation of Children in Stockholm. He also attended the Earth Summit held in Johannesburg. His significance contributions in the form of submitting papers and giving lectures on Child labours received well in Penang and London.

His "Dreams and Ambitions"…

He refers a quote, "Doing what others find it difficult is TALENT; doing what is impossible for talent is GENIUS"

'Yes! We want to make these younger generations to be in the GENIUS category. We dream…in our President Kalam's words, we dream, aim high and move forward to make that happen. Definitely, one day we will achieve'.

And his eyes gleam with pride when he makes that parting shot !!!!