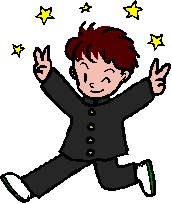 My first brave deed
"Mu…mmy… Pappu"
"Its too hot ma. Just wait for 5 minutes".
"Mu…mmy …Pappu"
"You are a nice boy, right? Look at that dog. How does it bark? "Loll … Loll come on, say… Loll… Loll"
"Mu…mmy… Pappu"
This was the conversation between my mom and me when I was 3 years old. You might wonder what was I asking for! I was asking for Dhal, my favorite food. In Tamil, people call it as 'Paruppu'. In my language I used to call it as 'Pappu'. I was very hungry at that time. When she asked me to demonstrate how does a dog bark, I actually wanted to demonstrate how does it bite! Hungry…………….Since all my efforts to get the dhal went in vain, "No more waiting. I know where it is. I know how to eat also. I don't want mummy's help," I decided. My mom and the neighbor aunt were busy in gossiping. I slowly went inside the kitchen and found dhal on the kitchen slab. I was too small to reach that slab. I told to myself: "You can do it. Jump a little bit. Little more. Little more. Yeah! Got it!" I managed to reach the vessel but could not lift it. So, I just pulled it down.
"Mummy….." My mom was shocked by that scream and came running to see me having a dhal bath. That too hot dhal. I cried like anything. The whole village gathered in front of our house. Before that incident, dhal was the food I liked the most but after that, it became the food that I hated the most. This is how I started my brave deeds.
My brilliant ways
In my childhood, I was so naughty. My parents had no clue as how to control me. One day they got a bright idea. You know what did they did? They put me in school! But their bad luck we had school only for 6 days a week. In those days, Sunday was the day, I liked the most, and my parents liked the least. One day my father got me groundnuts. My mom was removing the shell and giving it to me. I thought why shouldn't I try myself! I tried. But felt it too difficult to remove it with my nails. Suddenly I got a great idea! Believe me, I radiated with brilliance since my childhood! I wedged the groundnut between the door and the frame so that the shell would break. But it slipped. So, I held the groundnut firmly with my fingers and tried again. One… two… three… Fattack. "Mummy…" I crushed my finger and the groundnut escaped unhurt. How did this happen? I was surprised! My parents would have been surprised if it had happened the other way round!!
Break from the back
Let me tell you another incident that happened when I was doing my 7th standard. My brother and me were studying in the same school. Of course in different classes! We used to commute to school by bicycle. My brother used to ride and I used to sit at the back and enjoy the ride. You all know that bicycle has break in the front. One day I applied break from the back. Guess how? I inserted my left leg in the back wheel. Of course by mistake! Four spokes and my leg broke off.
The shirt that hurt me badly
This incident happened when I was 14. One fine(?!!) Sunday, my mom was requesting me, "At least this Sunday you stay at home".
"Stay at home? Doing what?" I asked my mom.
"Why don't you clean your cupboard?" My mom asked.
'All right, let me not trouble my mom at least today' I thought to myself and went to my room and started cleaning the cupboard. My mom was busy in kitchen preparing lunch. Dhadaar… Suddenly she heard a big sound from my room.
"Hey, what happened?" she asked from the kitchen.
"Nothing mom. My shirt fell down!" I told.
"Shirt fell down? But I heard a big sound!"
"Yeah. That's because I was inside the shirt!"
When she heard that, she did not know how whether to laugh or cry. But I was sure that I had to cry because, I could feel the hot blood flowing on my face!
My face wears a smile automatically when I lean back and recollect all these incidents and my crying small face.