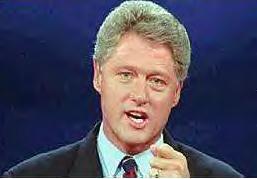 Original Name
William Jefferson Blythe 4th
Nick Name
Bill
Date of Birth

August 19, 1946

Wedding date
Oct. 11,1975
Sun sign
       Leo
Birth Place
    Hope, Arkansas
Education
Graduated from Georgetown University (1968); Attended Oxford University (1968-70); Graduated from Yale University Law School (1973)
Family
Father: William Jefferson Blythe 3rd(died in an automobile crash three months before Clinton's birth.)
Mother: Virginia Kelley
Step father:Roger Clinton
Wife: Hillary Clinton
Daughter :Chelsea Victoria Clinton
Religion
Baptist
Positions held
Arkansas Attorney General, 1976-78
Governor of Arkansas, 1978-80, 1982-92
42nd President of USA: 1/20/1993 – 1/20/2001
Political Party
        Democrat
Occupation
Lawyer and public official
Books
Putting People First: How We Can All Change America (1992), co-authored with Sen. Al Gore.
Other facts

Bill was an honors student, played the saxophone, and was popular with his classmates in school.
His step father was an alchoholic and abusive.
Bill thought of becoming a doctor or a reporter or a musician. But changed his mind after a fateful meeting with President John F. Kennedy while he was in high school.
"