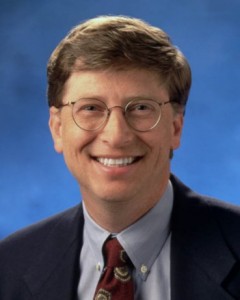 Name
William (Bill) H. Gates
Date of birth
October 28, 1955
Place of birth
Seattle, Washington
Education
School: Graduated from Lakeside School in 1973College: Harvard University where he developed a version of the programming language BASIC for the first microcomputer – the MITS Altair
Family
chairwoman of United Way International.)
Wife          : Melinda Gates (Ex-employee of Microsoft)
Daughter : Jennifer
Son            : Rory
Married on
Jan. 1, 1994
Posts held

President of a company called 'Traf -O- Data'

Chairman and Chief Executive of Microsoft Corporation which he founded in 1970 along with Paul Allen

Hobby
Buying cars, playing tennis and golf
Possession
A 37,000 square foot house in suburban Seattle, Two Porsches, a classic Mustang and a Lewcus
Books he wrote

The Road Ahead, published in 1995
Business @ the Speed of Thought,1999

Other interests
Biotechnology. Gates sits on the board of ICOS, a company that specializes in protein-based and small-molecule therapeutics Founded Corbis, which is developing one of the world's largest resources of visual informationInvested with cellular telephone pioneer Craig McCaw in Teledesic,
Contributions by the Bill and Melinda Gates Foundation
$381 million to special projects and annual giving campaigns.
"