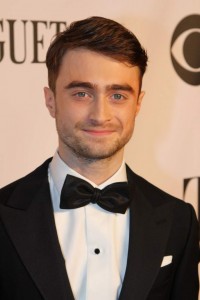 Full Name
Daniel Alan Radcliffe
Nick name
Dan,Danny
Date of birth
23 July 1989
Country
Fulham, England
Father
Alan radcliffe , literary agent
Mother
Marcia Gresham , director of casting
Current height
5'4
Hair
Brown
Eyes
Blue
Sign
Leo
School
All boys private school
TV debut
Played as young David Copperfield in BBC's televisions productions in 1999
Film debut
 In John Boorman's 'The Tailor of Panama' as Jamie Lee Curtis' and Geoffrey Rush's screen son.
Selection as Harry Potter
J.k.Rowling the author of harry potter books, selected him over 16,000 boys and other favourites like Frankie Muniz, Haley Joel Osment and Jake LLoyd who auditioned for the part.
Favourites
Past time: Listening to music
Food : Sea food
Instrument: Drums
Book: Holes by Louis Sachar
TV shows: The Simpsons and WWE
Role models: Joseph Fiennes , Tim Robbins, Anthony Hopkins, Ben Stiller, Tom Hanks, Julia Roberts, Kate Winslet , Kate Hudson.
Games: Football, Gymnastics.
Music Bands: U2, REM, The Sex Pistols, The Stranglers
Movie:'12 angry men', 'What's eating Gilbert Grape' and 'Donnie Darko'Club: Fulham Football Club
Favourites in Harry Potter series
Word: Voldemort
Pets
Two dogs named Binka and Nugget.
Salary
Around $ 3,000,000 per film
Belief in magic
Absolutely 100 percent
Magical power like to have
Invisibility , so he can sneak into top secret meetings.
Characteristics he shares with Harry Porter
He stands up for his friends always.
Characteristics that attracts the audiences
Naturalness and innocence
Awards
AOL Movie Goer Award for the year 2003
Future Plans
To be an actor, writer, director.
Next film 
Harry Porter and the prisoner of Azkaban is scheduled to be released on June 4,2004.
"