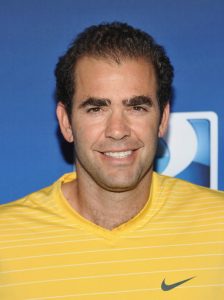 Full Name
Peter Sampras
Nickname(s)
`Pistol` Pete
Date of birth
12th August 1971
Place of birth
Washington, D.C. USA
Sun Sign
Leo
Family
Career
Tennis professional
Residence
Previously stayed in Tampa, Florida from spring 1998
until 1999. He now lives in songwriter Kenny G's Benedict Canyon ex-home (in Los Angeles) which he bought for close to its $2.9 million asking price. Built in 1976 and later re-modeled, the Country English-style home has three bedrooms and 5 1/2 baths in
more than 5,000 square feet. The home also has a recording studio,gym,pool and, of course, a tennis court. The home is on 1 1/2 acres.
Debut(Turned Pro)
1988
Plays
Right Handed
Titles
45
Majors
8
Grand Slam Titles
14
Current Coach
Paul Annecone
Past Coaches
Pete Fischer, Joe Brandi, Tim Gullickson,John Austin, Robert Lansorp.
Trainer
Todd Snyder
Former Trainer
Pat Etcheberry
Practice Facility Location
Saddlebrook Resort, Wesley Chapel, Florida
Idols
Rod Laver, Ken Rosewall
Current Shoes
Nike Air Meadow Mesh Supreme
Racquet
Wilson Pro Staff Original
Favorite Music
Anything from Led Zeppelin to Cat Stevens
Favorite Food
Italian food and pasta
Favorite Book
Catcher in the Rye
Favorite Pastime
Playing golf (handicap 10) and watching any sports on
TV (fan of Formula One racing and NBA)
Most Convenient thing he has done
Rented a Cessna Citation 10 jet to make personal traveling easier.
His Definition of Success"
"Reaching your potential. I've been successful, but there are still challenges for me."
Quote on Wimbledon court
"This is the best court in the world, this is my home away from home."
Favorite Quality
His ability to laugh at himself.
Least favorite Quality
His impatience
Movie that made him cry
Titanic.
Movie that made him laugh
There's something about Mary.
Strengths
Aggressive serve, killer forehand and staying power
Sponsorships
Nike, Wilson, Movado, Ray Ban, Babolat
Interesting facts about him
-No.1 player in world from 1993-98;
Youngest ever U.S.Open men's champion (19 years,28 days) in 1990;
-His win at U.S.Open in 2002 gave him 14 grand slam singles titles for his career, more than any other male player;
-Has won 2 Australian Opens (1994,97), 7 Wimbledons (1993,94,95,97,98,99,00) and 5 U.S. Opens (1990,93,95,96,2002);
-Career money leader on ATP Tour;
-The only pro to ever serve more than 1,000 aces in a single season;
– Became the first American man to win an Olympic Gold medal in singles (1996) since Vincent Richards in 1924.
"