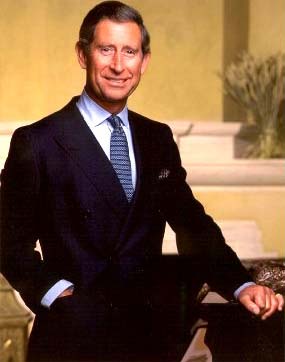 Name
Charles Philip Arthur George
Titles
Prince of Wales, KNIGHT OF THE GARTER(KG), KNIGHT OF THE THISTLE (KT), KNIGHT GRAND CROSS OF THE ORDER OF THE BATH (GCB), ORDER OF MERIT (OM), KNIGHT OF THE ORDER OF AUSTRALIA (AK), COMPANION OF THE QUEEN'S SERVICE ORDER (QSO), PRIVY COUNSELLOR (PC) AIDE-DE-CAMP (ADC), Earl of Chester, Duke of Cornwall, Duke of Rothesay, Earl of Carrick, Baron of Renfrew, Lord of the Isles and Prince and Great Steward of Scotland.
Date of Birth
9.14pm on 14th November, 1948
Birth Place
Buckingham Palace, London (U.K)
Baptised by
Archbishop of Canterbury, Dr. Geoffrey Fisher, in Buckingham Palace
Height
5'11"
Religion
Anglican
Education

Hill House school in west London
Cheam, the preparatory school at Headley, near Newbury, Berkshire
Gordonstoun, the public school on the shores of the Moray Firth in Scotland.
B.A.(honours)Trinity College, Cambridge.
spent a term at the University College of Wales at Aberystwyth, learning to speak Welsh.

Family
Father: Prince Philip
Mother: Queen Elizabeth II
Brother: Prince Andrew
Brother: Prince Edward
Sister: Princess Anne
Wife: Late Princess Diana
Son: Prince William
Son: Prince Harry
Girlfriend: Camilla Parker Bowles (engaged)
First governess
Catherine Peebles
Ancestry
* Grandson of King George VI and Queen Elizabeth.
* Great-grandson of King George V and Queen Mary.
* Great-great-grandson of King Edward VII and Queen Alexandra.
* Great-great-great-grandson of Queen Victoria and Prince Albert.
* Nephew of Princess Margaret.
Was an exchange student
at Timbertop, a remote outpost of the Geelong Church of England Grammar School in Melbourne, Australia.
First appointment
in 1969 as Colonel-in-Chief of the Royal Regiment of Wales. He became Colonel of the Welsh Guards in 1975, in succession to The Duke of Edinburgh, and now holds a number of Service appointments.
Military ranks
Vice-Admiral in the Royal Navy, Lieutenant-General in the Army and Air Marshal in the Royal Air Force.
His Badge consists of
three silver feathers rising through a gold coronet of alternate crosses and fleur-de-lys. The motto "Ich Dien" (I serve) is on a dark blue ribbon beneath the coronet.
Banners
his Personal Standard, his Standard for Wales and his Standard for Scotland
Became heir apparent 

heir apparent: at the age of three
given the title prince of Wales: at age nine
formally invested with the title : at age 20

His Duties
Undertaking royal duties in support of The Queen
* Working as a charitable entrepreneur
* Promoting and protecting national traditions, virtues and excellence
Areas of interests
young people, the unemployed, the disabled, the elderly, the problems of the inner cities, education, medicine, the arts, conservation, national heritage, environment, architecture and sport.
Takes great interest
in the running of the Home Farm at his country home, Highgrove in Gloucestershire
Took his seat in the House of Lords
On 11th February, 1970
Is a 
Qualified helicopter pilot
Favourites
food: scrambled eggs
drink: whiskey
Was separated from Princess Diana 
9th December, 1992
Long time sweetheart 
Camilla Parker Bowles
Favourite sports
plays polo, sometimes hunts, racing to sailing and aqua-lung diving. Goes skiing every winter.
favourite skiing spot
Klosters in Switzerland
Other interests
painting watercolours, through which he raises money for charity, and gardening.
Agriculture 
Promotes organic farming methods
Admitted
of Comitting adultery with Camilla when he was still married to Princess Diana
Hong kong
represented The Queen at  the handover of Hong Kong in June 1997 to China
Also dated
Sarah Spencer
Susan George
Proposed

Lady Diana Spencer on February 24, 1981,
Mrs. Camilla Parker Bowles feb 10. 2005

Married
An estimated one billion people around the world watched as Prince Charles married Lady Diana Spencer on July 29, 1981.
Divorced
August 28, 1996,
Met Camilla
1970 at a polo match and accepted having an affair with her in 1986
Honeymoon 
At a Scottish hunting lodge, Birkhall, on the Balmoral estate beside the River Dee near Aberdeen.
Godfather 
of Tom Parker Bowles (Camilla' son)
Authored

wrote A Vision of Britain (1989), which became a television documentary.
humorous little film, produced in Wales for British & American television called the The Legend of Lochnagar

Rumour 
Edward VII, Charles's great-great-grandfather, had had a series of mistresses, including Alice Keppel, Camilla's great-grandmother
Attacked
Attending the 150th anniversary celebrations of the Royal Institute of British Architects in 1984, he attacked modern architecture and its creation of 'giant glass stumps'.
Calls science of Nanotechnology
a triumph of human ingenuity
Facts

The Prince was four at his mother's Coronation, in Westminster Abbey on 2nd June, 1953
the first heir to the throne to sit public examinations, took his GCE 'O' levels at the age of 16, passing English language, English literature, Latin, French and history – and later mathematics. He took his 'A' levels in July 1967, getting a B in history and a C in French, also gaining a distinction in an optional special paper in history.
He is 21st holder of the title Prince of Wales  in 700 years
Received the The Sultan Hassanal Bolkiah International Prize from The Sultan of Brunei.

Charities
17 core charities: The Prince's Trust, The Prince of Wales's Charitable Foundation, The Prince of Wales's Foundation for Integrated Health, The Prince's Foundation for the Built Environment, The Prince of Wales's Phoenix Trust/Regeneration Through Heritage, In Kind Direct, The Prince's Drawing School, The Prince of Wales International Business Leaders Forum, Duchy Originals, Business in the Community, Business and the Environment, Scottish Business in the Community, PRIME-Cymru, PRIME-England, The Prince's School of Traditional Arts, The Prince of Wales Foundation US, The Prince's Scottish Youth Business Trust, The Prince of Wales's Arts & Kids Foundation, Youth Business International and The Prince of Wales's Education Summer School.
Residence
Clarence House in London, the Prince's official residence
Quote
"For the past years I have been entirely motivated by a desperate desire to put the 'Great' back in Great Britain.
"