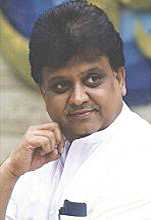 Original Name
S.P.Balasubramanyam
Nicknames
Balu-Friends
SPB-Popular name
Date of birth
June 4, 1946
Place of Birth
Konetammapeta (then in Andhra Pradesh and now in Tamil Nadu).
Family
Dad           :  SP Sambamurthy
Wife          :  Savithri
Son            : Charan(Singer,Actor)
Daughter : Pallavi(Singer)
Home address
16,Kamthar Nagar,Mahabalipuram,Chennai-34
Office
'Kodandapani Audio Laboratories'-modern sound recording theatre-Balu calls it his dream temple
Phone No
Home: 044-8272757
Office: 044-4729305
Various roles
Playback singer, Film/Serial actor, Music Director, Dubbing Artiste
Languages
Telugu, Tamil, Kannada, Malayalam the lingua franca, Hindi, Tulu, Oriya, Assamese and Punjabi
First Song
Telugu :In 1966 with actor-producer Padmanabham's 'Sri Sri Sri Maryada Ramanna' which had music by Kodandapani
Tamil : Iyarkai enum " for the film Santhi Nillayam
Live Music Performances
Singapore, Sri Lanka, Malaysia, U.A.E., U.K., Germany, Switzerland, France, Canada, U.S.A. and Norway
Dubbing Artiste
Bhagyaraj, Mohan, Girish Karnad, Gemini Ganesh, Naresh, Karthik, Raghuvaran, Vinodkumar etc
As an actor
Movies :'Guna', 'Talaivaasal', 'Keladi Kanmani', 'Sigaram' and 'Kathalan' in Tamil, 'Pavithrabandham' and 'Aro Pranam' in Telugu, 'Muddina Mava' in Kannada
Serials: Jannal,Nathi Enge Pokirathu, conducted a weekly programme 'Padutha Teeyaga' aired on ETV
As Music Director

First Film:'Kanya-Kumari'

Composed songs for about 50 more Telugu films
background score for a Kannada film, "Sambandha", which had no songs.

Achievements

36000 songs in 35 years (To be included in Guinness World record soon)

Recorded 17 songs in Kannada for the composer Upendra Kumar in Bangalore from 9.00 am to 9.00 pm on February 8, 1981Recorded 19 songs in Tamil in a day, and 16 songs in Hindi in a day
rendered a song in one breath in the Tamil film 'Keladi Kanmani'

Important Awards
.
6 National awardsso far
Interesting facts
Balu has accompanied Latha Mangeshkar in her live shows in the US and UK. He had the rare distinction of meeting the U.S. President Mr.Bill Clinton along with Lathaji at the White House! And he himself has toured widely abroad with his musical troupe.He is passionate about the game of cricket and is a keen watcher of the game as and when time permits him to do so.
Advice to new singers
"You can imitate my songs, but not my voice. It is healthy for each person to sing in his own voice. No one can be an obstruction to another in this industry. With talent and luck anybody can make it here".
"