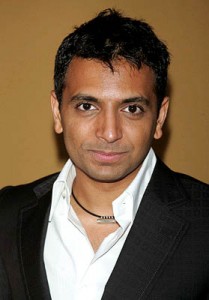 Full Name
Manoj Nelliyattu Shyamalan
Other Name
Night Shyamalan
Profession
Director, Screenwriter and Actor
Date of birth
6th August 1970
Place of birth
Pondicherry, India
Religion
Hindu
Sun Sign
Leo
Education

Filmmaking -> Tisch School of the Arts –
Graduation -> New York University – 1992
Episcopal Academy, a private school in Lower Merion, PA

Hair
Coal-black
Eyes
Lively brown
Family

Father : Nelliate C. Shyamalan-> Is a cardiologist.
Mother : Jayalakshmi Shyamalan ->

Is an obstetrician

Spouse : Bhavna – having 2 Kids ( Married since 1993 )

Name of his company
Blinding Edge Pictures
Residence
Wayne, Pennsylvania
Likes to read
Comic books
Fueled the passion for filmaking
Super-8 camera he received when he was 8 years old.
Idol  
Steven Spielberg
First Film  
Praying With Anger (1993)
Favorite films 

Francis Ford Coppola's "The Godfather" – all time film
"Raiders of the Lost Ark"
"The Exorcist"
"Die Hard"

Favourite Director
Alfred Hitchcock
Salary 

Signs (2002) -> $12,500,000
Unbreakable (2000) -> $10,000,000
Sixth Sense, The (1999) -> $3,000,000

Sixth sense
The movie made him a world famous screenwriter and director in 1999 and it was the  No.2 box-office phenomenon, surpassed only by Star Wars I.
Premiere's annual Power 100 List

Ranked #23 in 2004
Ranked #21 in 2003
Ranked #64 in 2002
5th-highest ranked director

Awards and  Honors

Episcopal Academy's 2001 Distinguished Alumni Award

Gold in the 1999 blockbuster

Two Oscar nominations for Best Director and Best Picture for the film Sixth Sense

Golden Satellite 1999

Filmography 

Harold & Kumar Go to White Castle (2004)
The Village (2004)
Signs (2002) -> Producer, Actor, Director, Writer
Unbreakable (2000) -> Producer, Actor, Director, Writer
The Sixth Sense (1999) -> Actor, Director, Writer
Stuart Little (1999) -> Writer
Wide Awake (1998) -> Director, Writer
Praying With Anger (1993) ->Producer,Actor,Director,Writer

 Milestones 

With family moved from India to Penn Valley, Pennsylvania.
1980 Began making film at age 10 (date approximate).
1986 By age 16, had completed 45th short film.
1992 Feature film debut as writer, director and star of "Praying With Anger", filmed in Madras, India in 1992.
1993-1994 Wrote screenplay for "Labor of Love"; sold to Fox for $750,000
1995 Sold the script for "Wide Awake" to Miramax for $250,000 on condition the film will be done in  Philadelphia.
1997 Hired to rewrite script for "Stuart Little" (1999).
1999 Breakthrough film, "The Sixth Sense", starring Bruce Willis and Haley Joel Osment; wrote and directed and made cameo appearance as a doctor.
2000 Reportedly received $5 million to write and $5 million to direct the thriller "Unbreakable", starring Willis and Samuel L Jackson.
2002 Wrote and directed the supernatural thriller "Signs," starring Mel Gibson and Joaquin Phoenix.
2003 Reunited with Joaquin Phoenix for the horror feature  "The Woods", for which he served as writer and director.

Fast Facts

Name pronounced SHAH-ma-lawn.
Middle name Night was made up during college.
1988 Graduate of Episcopal Academy.
The silver charm worn around his neck was given to him by his father and contains Sanskrit proverbs to keep him safe.
Films are  religiously themed.
Next film The Life Of Pi which will be shot in Pondicherry, India
Got married when he was only 22 years old.
Well versed in martial art Kempo
Highest paid screenwriter in Hollywood (Disney gave him $5 million to write Signs (2002))

Quote
"I play for a living…Success is tied to a feeling of magic, which I can protect and My hope is we broke so many rules we created a new rule".
"