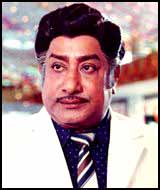 Original name
Ganesan
Popular Name
Sivaji Ganesan-Given by great Rationlist,Thanthai Periyar E.V.R.Ramasamy
Nadikar thilagam, Nadippu chakravarthy
Date of Birth
October 1 ,1927
Native place
Villupuram, a small town in South Arcot district, in Tamilnadu, India
Mother Tongue
Tamil
Family
Father: P.Chinniah  Mandraayer(Freedom fighter)
Mother: Rajamani Ammal
Wife: Kamala
Sons: Ramkumar and Prabhu
Daughters: Shanthi and Thenmozhi
Education
III std
Qualities

Punctuality.
Make-up Aptness and Physical Fitness
Infinite Variety In Acting And Dialogue -Delivery

First performance on stage
At the age of 9yrs he was so interested in stageplays and ran away from home. So his mother joined him in a famous drama troupe
First film & turning point
Parasakthi(1952)
No of films acted
about 300 movies including 9 Telugu
movies, one Malayalam movie and two Hindi movies.)
Few of his famous films
Poongothai/Pardesi , Pempudu Koduku,  Manohara , Kalvanin Kadhali , Tenali Raman, Rangoon Radha , Makkali Petra Maharasi , Maragatham , Motor Sunderam Pillai , Pasumponn, Thiruvilayaada, Thiruvarutchelvar, Veerapaandiya Kattabomman, Kappalotiya Thamizhan, Karnan, Navarathiri, Thillana Mohanaambhal
Awards

The Best Actor Award won in Afro- Asian Film Festival held in Gairo,  Egypt in 1960.
Padmasri Title – 1966.
Padmabhushan Title – 1984
Chevalier Award of France 1995.
Dadha Saahib Paalkhe Award 1997.

Involvement in politics

Till 1955 he was a staunch D.M.K. party sympathiser
1961 he become a strong supporter of Congress Party
In 1982 Mrs.Indira Gandhi made him the Rajya sabha M.P
After 1987 came out of Congress and floated his own Political  Party
2 years latter became President of Tamilnadu faction of Janata Dal.

Honours bestowed Upon him

In 1962 Sivaji Ganesan toured America as its Special Guest. There, he was given one of the highest  honours of being the Mayor of Niagara City for one day. After Prime Minister Nehru, Sivaji was the only Indian to get this honour.
In Hollywood  he met world famous actors like Marlon Brando and some  leading Cinema technicians.
Egyptian President Naasar, Singapore former Prime Minister, Ceylon President Chandrika, Indian former Prime Ministers Nehru, Indra Gandhi, V.P. Singh, former President Dr. Radhakirishnan, former Governer -General Rajaji, former Chief Ministers Kamarajar and Annadurai, Present Chief Minister Kalaignar Karunanidhi, Ex-Chief Ministers M.G.R., RamaRao and Jayalalitha were not  only his associates but his very great admirers too!
Actors' association president Vijaykanth said that October 1, Sivaji Ganesan's birthday, would be observed  as Actors' Day.

Other facts
Erected the statue of Kattabomman at Kayatharu.
Donated amount for erection of Sivaji Maharaj statue at Bombay
Passed away
On July 21, 2001 because of a prolonged heart ailment.
"