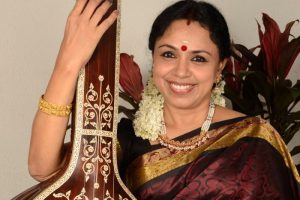 Full Name
Sudha Raghunathan
Also known as
 M.L.V. 'varisu'
Profession
Vocalist(carnatic music)
Date of birth
April 30.
Birth place
Bangalore
Father
Venkatraman
Mother
Choodamani
Brother
Prasad Venkatraman
Husband
Raghunathan(got married in 1982)
Children

Son: Kaushik
Daughter:Malavika

Contact address
8/1c , Baskarapuram,
East Abhiramapuram, Chennai – 600 004.
Phone : 91 44 499 6600, Fax : 91 44 499 6800
Email : sudaragu@vsnl.com
Education 
 College -Ethiraj college M.A.( Economics)
 Gurus 
 Mother, Mr.B.V.Lakshman and M. L. Vasanthakumari(started singing    with her from 1979)
Tutelage with MLV
She had not taught us any songs. She would sing, mostly in performances from which I had to learn. By following her in all her performances, I came to learn the songs. "
Career started  
 At the age of 19
Best performance
Lincoln Centre in New York.
playback singing
 Has rendered three songs in the film 'Ivan'
Singing style
 Spontaneous
Music she likes to hear
 Soothing, sometimes something adventurous music
Secrets to 

her voice: talk in lower volume, and sometimes even complete silence.
her success: absolute dedication

Favourites

Singer- MLV
Accompaniments: violin, mridangam, morsing, gadam
Western: electric guitar
Dish:-vendhiya kozhumbu and of course the all fav aalu (potato).
Song: baro krishnayya
Ragas:subapantuvarali, kalyani, hameer, kapi
Composers: Tyagaraja and Purandaradasa and Sivan, among others.

Facts

Top Ranking artiste of the All India Radio, Chennai and performs regularly on AIR and Doordharshan
unique privelge of being the 'Astana Vidushi' of The Sri Sringeri Sharada Peetam, Sringeri, The andavan ashramam, Srirangam the Ahobila Mutt.
she exceled in debates, quiz, drama and essay writing during her student years

Opinions
 Subbudu(critic):"If I were left deserted on a lonely island, and if I  were granted permission to hold three products that I liked very much, I would list the following in order of my preference:
A. An audio-visual cassette of singer Sudha Ragunathan;
B. Betel leaves and tobacco to chew on while I listen to the music
C. Poet Kannadasan's works.
Hobbies
 Reading fictional and inspirational books
Charity
 "SAMUDHAAYA FOUNDATION" was founded for social welfare activities on July 1999. The trust has donated money to

KARGIL DEFENCE PERSONNEL RELIEF FUND.-1999
cyclone stricken victims of Orissa in December 1999.
Gujarat Earthquake Relief Fund 2001

Advice to aspiring  youngsters
 To be loyal to guru, and be focused in practice.
Future goals

a school which will represent her style of music
taking carnatic music from thousands to millions of people.
to do research on what music can do in the field of medicine

Awards and
Honors
        AWARDS

Woman of Golden Substance Award 1998-99
MLV Memorial Award, 1998
Bharat Jyoti, Bharathiya Vidhya Bhavan, New York, 1998
Sangeetha Choodamani, Sri Krishna Gaana Sabha, Madras 1997
Senior Musician Award, the 'Yogam Nagaswamy' award at the Sadas of the Music Academy 1997
Bharatha Sangeetha Bhushan —1997
Sangeetha Bhushini 1996
'Kalaimamani' award from the govt of tamilnadu-1993
 Sangeetha Saraswathi from The Mahasannidhanam of Sringeri, 1993
Junior Fellowship for two years ( 1993 to 1995), from the Ministry of Human Resource Development, Government of India, given to outstanding Artistes in the field of Performing Arts.
Sri T. S. Rajam award for 'Talented Outstanding Musician' -1992
Received 'Most Outstanding Student' for three years in succession while studying in the Ethiraj College .

      HONOURS

Honour of performing  at the Theatre de la Ville, Paris, France – 2000.
She sang the 'Vande Mataram' at the Central Hall of Parliament, New-Delhi on 27th January, 2000 to a full house in the presence of the President, the Prime Minister and other dignitaries to honour the completion of 50 years of the Indian Republic.
Honour of performing at the Alice Tully Hall, Lincoln Centre, New York Broadway in 1998 for Bharatiya Vidya Bhavan, New York to commemorate 50 years of its inception.
The only Asian to perform at the 'International Festival – ECHTERNACH' at Luxembourg – 1995
Sang in the 8th World Tamil Conference held in Thanjavur in January 1995
Honour of participating in the 22nd I.T.C. Sangeeth Sammelan organised by the S. R. A. Calcutta held at Siri Fort, New Delhi in -1993.
"